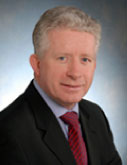 Dr Kevin Bradley is currently President of the Nickel Institute, the global representative body of the nickel metal and mining industry. The institute has 26 member companies including the top five multi-national mining conglomerates.
An environmental scientist with more than 20 years' experience in international and EU public policy, regulatory affairs and issues management, Dr. Bradley has worked within a variety of public and private organizations and institutions including the European Commission (DG ENV), the Nickel Institute and the international trade association for the major beverage carton manufacturers and their paperboard suppliers (ACE). He was a Director and head of the Dublin Office of Environmental Resources Management (ERM) and founder and managing Director of Coolegad Services, a consultancy providing EU environmental policy and regulatory issues management services to companies and trade associations which he ran for three years.
He has written extensively on environmental impact and strategic environmental assessment as well as numerous other articles and contributions on environment and sustainable development. In 1987 and 1988 he was a member of the teaching faculty of the WHO International Summer Course on EIA held at the University of Aberdeen.