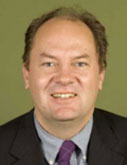 Ragnar E. Löfstedt is Professor of Risk Management and the Director of King's Centre of Risk Management, King's College London, UK where he teaches and conducts research on risk communication and management. Previously he was a Reader in Social Geography at the University of Surrey, UK. He is also an Instructor at the Harvard Center for Risk Analysis, Harvard School of Public Health. He is Adjunct Professor at the Department of Engineering and Public Policy, Carnegie Mellon University, and he is a Visiting Professor at the Centre for Public Sector Research, Gothenburg University, Sweden.
Dr. Löfstedt earned his BA and MA degrees at University of California Los Angeles (1988) and Clark University (1991), respectively, before completing his PhD in geography at Clark University (1993). After a post-doctorate position at the Risk, Society and Policy Group at the International Institute for Applied Systems Analysis (IIASA) (Laxenburg, Austria), he joined the University of Surrey as a lecturer in social geography in 1993. He has conducted research in risk communication and management in such areas as renewable energy policy, food safety issues, pharmaceutical recalls, telecommunications, biosafety, and the siting of building of incinerators, nuclear waste installations and railways.
Dr. Löfstedt is the author/editor of ten books and over 90 peer reviewed articles, is the editor-in-chief for Journal of Risk Research, editor of the Earthscan publications' Risk, Society and Policy book series, and is on the editorial boards of Journal of Health Communication, International Journal of Risk Assessment and Management, and Risk Management. In December 2000 Ragnar Lofstedt was awarded (as the first non-American) the Chauncey Starr Award for exceptional contributions to the field of risk analysis for someone under the age of 40 by the Society for Risk Analysis. In 2005 he was made a fellow of the Society for Risk Analysis, and in 2006 he received the Outstanding Service Award from the Society of Risk Analysis.